Public Project Idea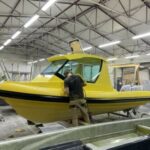 Unmanned Surface Vehicles for environmental protection
active 1 year ago
The main goal of the project is to build a network of cooperation between local authorities, ports and maritime administration, interested in using USV for autonomous surface inspections. Unmanned surface vehicles (USVs) are highly complex marine vessels operating on water surfaces without the need for onboard operators. These vehicles incorporate several technologies in them, such as system integration technology, environment perception technology, and autonomous decision & control technology.
USVs are useful for small-surface platforms and may have the ability of autonomous path planning and autonomous navigation. These vehicles are used across a wide range of defense and commercial applications. Defense applications include Mine Countermeasures (MCM); Intelligence, Surveillance, and Reconnaissance (ISR); and Anti-Submarine Warfare (ASW), whereas commercial applications include oil & gas exploration and construction; oceanographic data collection; and hydrographic, oceanographic, and environmental surveys.
USV are relatively simpler to operate as compared to unmanned underwater vehicles (UUVs).
Some USVs are capable of conducting an entire mission autonomously and returning to the pre-programmed location wherein the data is collected and analyzed. These vehicles have a wide range of applications in the commercial sector, wherein they are used for baseline environmental assessments, pipeline inspections, debris surveys, and aquaculture operations, among others.
Artificial Intelligence (AI) is one of the major technologies used to enable autonomous capability in different systems. The incorporation of AI in unmanned surface vehicles enables the vehicles to perform different tasks, right from navigation to data acquisition, data transmission, and data analysis. AI is also expected to reduce the number of skills required to operate unmanned surface vehicles. These vehicles equipped with AI can be used in both commercial and military applications.
We are planing to use our online platform for sharing knowledge with project partners. Potential synergies with the goals of the program are the use of USV for environmental monitoring (improving safety) and maritime electromobility.
About Interizon:
Interizon is a Polish National Key Cluster, associating 90 entities, representing 13 business sectors, employing over 25.000 people. Members include companies operating in the Electronics, Telecommunications, IT, Automation and Robotics sectors, as well as R&D institutions, education units, and business environment institutions.
The companies within Interizon Cluster provide a wide offer of products and services including, electronic finished goods & components, creation and implementation of advanced IT solutions and provision of IT & telecommunication services. Interizon is a founder of Pomerania Digital Innovation Hub (one of Polish candidates for European Digital Innovation Hubs) and a coordinator of Pomerania Regional Intelligent Specialization "Interactive technologies in an information-saturated environment".
Important part of the Cluster's activities are common R&D projects, focused on development of ICT technologies, which have the greatest industrial and commercial potential. Interizon was the administrative support of two ARTEMIS projects – ACCUS and DEWI. The ACCUS (Adaptive Cooperative Control in Urban (sub)Sytems) is an ambitious project meant to achieve a better sustainable management and to engage synergies in order to improve citizens' quality of life. The DEWI project (Dependable Embedded Wireless Infrastructure) focuses on the development of wireless sensor networks, communication and applications. Interizon was taking part in a H2020 INNOSUP project called "Innolabs" and COSME "New Electronics for Global Health and Wellbeing".
Members