Public Project Idea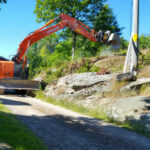 Towards blended entrepreneurial models for Rural SMEs with support of Green and Digital tech
active 5 months ago
Emerging innovative digital technologies enable SMEs to adopt green technologies and prepare them for resilience in the face of unpredictable crises, like pandemics and energy crises. Although digitalization has had a positive impact on SMEs, it remains a challenge for rural SMEs who are currently analogous to adopting digitalization because they lack digital literacy and are reluctant to use innovative emerging technologies. In order for SMEs to be successful in their digital transformation and green transition strategies, how do they identify technologies that would be beneficial to their unique industry and business model?
Through the implementation of a match-making project between rural SMEs and emerging green-technology SMEs, we are seeking to identify potential blended business models – flexible on/offline enabled business models – and simulate the consequences of implementing such novel business models. The match-making project would include workshops such as SWOT analysis of the participating SMEs and the integration of relevant technologies. As a result, various novel business types can be designed that combine rural local industry types with emerging technologies to support SMEs' current business models or to create unique types of novel services.
We can simulate the consequences of implementing the identified services through digital twin simulations. This will provide insight into the risks and strengths associated with such implementation at the regional level. As an example, what types of products and services can be created if the metal casting industry adopts 3D printing? What are the risks involved? It can also serve as a knowledge-sharing platform where a variety of rural SMEs can gain knowledge from similar industry examples and learn what to expect.