Public Project Idea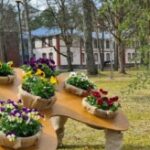 Ageing plan for health care workers. AGEinCARE
active 1 week, 4 days ago
The number and proportion of people aged 60 years and older in the population is increasing. In 2019, the number of people aged 60 years and older was 1 billion. This number will increase to 1.4 billion by 2030 and 2.1 billion by 2050. This increase is occurring at an unprecedented pace and will accelerate in coming decades, particularly in developing countries.
Ageing presents both challenges and opportunities. It will increase demand for primary health care and long-term care, require a larger and better trained workforce, intensify the need for physical and social environments to be made more age-friendly, and call for everyone in every sector to combat ageism.
It is showed by research that there is link between education and physical health meaning – poorer education also means poorer physical health. In ageing there are two main concepts – lived years and healthy lived years, but society tends to allow nature take its course.
Ageing in health care workers is on the rise and Strenci psychoneurological hospital in Latvia has gathered date of hospital employee's that show situation where ageing need to be planned and supported in the next five years, when 31% of employees will reach retirement age.
Research also shows that major improvements can be achieved in any age advancing healthy lived years with right support, involvement and education. Thus, this project idea would develop guidelines and good examples regarding aging plans and actions within health care – specifically for health care workers. It will also include development of specific health care organizations aging plans as well as pilot actions to education and support implementation of plans into everyday operational work.
Members