Public Project Idea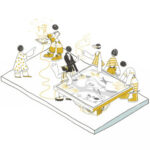 URBAN SANDBOX: Social and Economic Resilience through Experimentation and Young Citizen Engament
active 10 months ago
The project wants to encourage experimentation in urban planning processes by introducing a perspective change which aims to offer new opportunities for young citizen engagement – active involvement of children and youth in co-design processes, based on the values of the New European Bauhaus (NEB) and craftsmanship, for the co-creation of concrete tangible experiences in public space. Rooted in the NEB movement, which stands for inclusion, aesthetics and sustainability in the built environment, we propose a holistic and flexible concept for co-creative solution development, according to local needs and involving cross-sectoral actors. Craftsmanship stands for quality and the inner desire to do things better. Experimentation, iteration, and open-mindedness are key factors for the realization of the project´s innovative approach. Children and youth naturally take this approach – asking "how to do it differently" "what has never been done before" and always "what if" and "why". Our solution is a conceptual approach adopting the child's perspective and formalising tools and processes for urban actors to adopt this perspective in order to produce more innovative, creative, and sustainable solutions to their local challenges.
This will help build better social and economic resilience in the Baltic Sea Region. By integrating the future generation in decision-making for shaping their surrounding built environment, social cohesion and the establishment of a shared system of values will be strengthened in the region. The promotion of the NEB values will also help strengthen regional identity based on common European values, culture and heritage, but moreover on common understanding of the need of culture change in the planning and building sector towards a more sustainable and resilient built environment.
The project addresses the following target groups:
Local public authority – How to create experimentation space and how to integrate children´s perspective in administrative planning procedures?
Interest groups i.e. children and youth (age 6-18 year) – How to explain complex knowledge on planning and construction to the young generation in order to equip them with basic understanding for co-design processes?
Higher education and research institution – How to develop a conceptual methodology for city authorities to realize more sustainable and inclusive projects?
Hello Emiliya,
your projet-idea sounds interesting. We, the Lawaetz Foundation (founded by the City and State of Hamburg) are realizing similiar approaches since several years. Therefore we can describe our concepts and experiences -as part of the transnational exchange and development of new solutions. Best regards Ulrich