Public Project Idea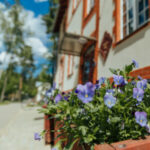 Sustainable and accessible mental health care services in regions.
active 1 month, 1 week ago
Concern over climate change is growing in the healthcare space, and telemedicine has been rapidly expanding since the start of the COVID19 pandemic. The COVID-19 pandemic shone a spotlight on how telemedicine can help to deliver healthcare to all, especially for people living in remote areas and underserved communities. Furthermore, research shows that telemedicine – as remote services especially in mental health care, can achieve goals in carbon footprint reduction by removing the need for patients to burn fossil fuels through traveling; telehealth-based delivery has been shown to be cost effective, especially for patients who may have to request absences from work, replacements for care-giving activities, or arranging transportation and as mentioned before – improved access in remote regions.
Even more, regarding climate change and impact on mental health care it would be long-term approach to implement multisectoral and community-based approaches to reduce vulnerabilities and address the mental health and psychosocial impacts of climate change.
For telemedicine to have the most impact when and where it is needed, the enabling environment is critical.
The project would tackle following points and initiatives:
• Research on good examples of mental health care hospitals/organizations providing remote consultations and approach specifically adapted to rural areas.
• Developing custom – educational and introduction plan for involved parties – physicians, patients, communities.
• Developing custom plan – for remote consultations to the region (are there just ICT systems necessary or remote room in region where consultations are received etc.)
• Developing process and quality criteria for each partner and regional situation – to implement telemedicine (necessary human resources, infrastructure and ICT, legal questions).
• Piloting and marketing remote consultations in mental health care services.
There are no documents uploaded for this group.