Public Project Idea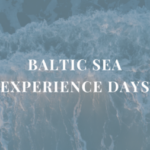 Baltic Sea Experience Days / Environmental education
active 1 week, 5 days ago
Dear Baltic Sea friends,
we are looking for a partner organisation in the field of environmental education with a mission to raise public awareness of the health of the Baltic Sea and its active participation in the protection of the Sea. We welcome partners from different kinds of organizations – NGO`s, non-profit organizations, museums, educational centers and institutions, town councils, municipalities and others.
Our vision is to organize Baltic Sea Experience Days – a week-long program of multi-disciplinary activities from different fields – the arts, science, economics and politics. The main goal of this event would be to offer an active participation and emotional interaction with the Baltic Sea to its visitors. After analyzing our made experiences, we develop a toolbox/guideline which contains questions and methods, that environmental education organizations can use in designing non-formal educational events or developing new educational concepts regarding environmental crises.
You can find more information about us and our project application idea in the attached files. The current project plan is still in a "raw" state. It is our intention to enrich this draft with your ideas and visions and to finish the project plan jointly.
About us:
Die Multivision e.V. is a non-profit association based in Hamburg, Germany. The association has been organizing around 1000 environmental and political education events at secondary schools since 1998, reaching around 150.000 students every year. Multivision is one of 51 recognized UNESCO programs for the UN Decade of Education for Sustainable Development (ESD) and one of the largest German actors in sustainability education. In 2022 we received the NUN certification, a North German quality development process for actors in the field of ESD.
There are no documents uploaded for this group.